This is a Sponsored post written by me on behalf of White Cloud. All opinions are 100% mine.
My family started going green a couple of years ago when our son was in environmental club at his school. The whole family got involved by making a list of what we could do around our house to go green. We start by recycling everything that we could through our garbage company.  We found that we were putting more in the recycling bin each week than we did into the garbage can! On average now we only have 2 garbage bags a week, whereas before we started recycling we had 5-7 bags. We always make sure that we are turning off anything that is not being used like the T.V. and lights and electronics that are not being used often.  We keep each other accountable for turning out electricity that is not being used and making sure that nothing goes into the trash that can be recycled.  The kids like being a part of making our little world green and knowing that not only are we helping our family with the things that we do to be green we are doing our part to help the planet.
One more thing that we need to start doing is using more green products like White Cloud GreenEarth.
GreenEarth is the innovative, eco-friendly line of White Cloud products (bath tissue and paper towels), made from 100 percent recycled fibers.  I like that I don't have to compromise because GreenEarth products maintain the highest standards of quality while still remaining affordable.  "Living the Green" doesn't have to mean breaking the bank or sacrificing quality. White cloud truly puts living within reach!
Did you know…
All GreenEarth® products maintain a Forest Stewardship Council certification.
White Cloud can be found exclusively at Walmart!
White Cloud's Pin it to Win it "Living the Green Sweepstakes"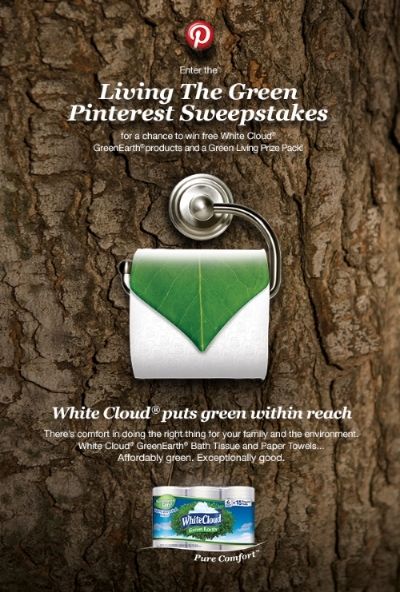 Here's how to enter:

1. Follow White Cloud on White Cloud Pinterest page
2. Create their own "Living the Green" Pinterest board
3. Repin at least one Pin from the White Cloud "Living the Green" board to their board and include the hashtag #LivingTheGreen in the pin's caption
4. Visit mywhitecloud.com/promotions and complete the sweepstakes entry form
NO PURCHASE NECESSARY. Ends 4/30/13. Click here for Official Rules.
Sweepstakes Rules and Regulations
For green living tips and ideas visit White Cloud "Living the Green" Pinterest board and the White Cloud GreenEarth products page.  You can also Like White Cloud on Facebook and Follow White Cloud on Twitter.